Our Vision
---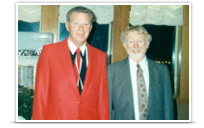 With a vision of ultimate customer service, the founders of 5 Day Business Forms developed a system that could produce custom business forms in just 5 workdays! In 1976, standard turnaround time was 15 - 20 days, yet Larry Messick and Al Space refused to stay within that standard. They listened to the professionals and realized that they needed a better option than to tell their customers to wait or worse yet, ask for an outrageous rush charge.
At 5 Day Business Forms, we have realized these demands and serviced the industry for over 35 years by solving the problems of demanding customers and making our customers the heroes!
President, Les Messick has made Customer Service our main focus. With a staff of experienced form professionals, we're committed to listening to your demands and solving all of your printing needs. Whether it's working hand and hand on a project, a quick turnaround, or just being a resource guide, we'll work hard to accomplish your goals. Making you a satisfied and long term customer is our number one priority.
What Makes Us Different ... OUR PEOPLE!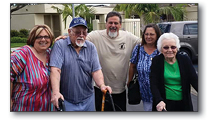 5 Day's Dru Petch is slowly adjusting to having time on her hands.
Her journey has not been easy, beginning with her mother's diagnosis with Alzheimer's disease and her eventual passing. Then, six years ago, her father suffered a stroke. "I was so busy with my mother," Dru recounts, "and my step-siblings lived nearby (my father)."
She was horrified to discover that her father and 90-year-old stepmother, were living on a steady diet of fast food.
With her sister and sister in law battling cancer, Dru began the daily routine of providing meals and care for her parents, in addition to her full-time career at 5 Day Business Forms. Dru's elderly parents' dependency increased when her father was diagnosed one year ago with severe aortic stenosis.
Senior insurance offered no in-home care. Lack of daily contact is physically, mentally, and spiritually devastating for the elderly in our culture. Dru wonders how the Meals on Wheels program, operated through SeniorServ in Orange County, could have made a difference.
"Meals on Wheels would have given me a little bit more time - a life of my own," Dru reflects. "It would have taken away some of the day-in, day-out stress. I could have taken an occasional much-needed break." Still, Dru has no regrets about the sacrifices she endured these past years.
She also sees the extreme need for Meals on Wheels in her own retirement community. "Often time, my elderly neighbors do not tell their family members that they are unable to eat nutritional meals - due to lack of transportation or financial reasons," Dru said. "They don't want to lose what little independence they have; and they don't want to be a burden on their children. My neighbors may not be computer savvy enough to know that services like Meals on Wheels are available."
And so they suffer quietly; going without meals or, as Dru discovered, eating a bag of popcorn for dinner.
She treasures the many conversations she had with her father and the precious time they had together before he passed in February. "The last night my Dad was alive, he wanted beans and ham, cornbread and a side of fried potatoes with onions," Dru recalls. "He enjoyed every moment of it."
God bless,
Dru Petch, CSR @ 5 Day Business Forms